Jun 20
jonpeltoAFL-CIO, American Federation of Teachers, Gubernatorial Election 2014, Malloy, Paul Vallas, Pelto, Public Employees, State Employees, Teacher Tenure, Teachers Gubernatorial Election 2014, Malloy, Pelto, State Employees, Vallas 12 Comments
To the  unions, public employees, and the voters of Connecticut – Let's take a moment to set the record straight…
While preventing me from even speaking to the union members responsible for endorsing candidates, the leadership of the Connecticut AFL-CIO and AFT-CT were among those claiming that voters must choose Governor Dannel "Dan" Malloy or Connecticut would become another Wisconsin – a reference to the damage Wisconsin Tea-Party governor, Scott Walker, and the Republican, right-wing controlled Wisconsin Legislature have done to public employees and their right to collectively bargain in that state.
In order to drive their point home, the Connecticut union leaders brought in Stephanie Bloomingdale, the secretary-treasurer of the Wisconsin AFL-CIO, to give a speech at the AFL-CIO political endorsing convention.  Bloomingdale reported, "They came for us in Wisconsin and they are coming for you in Connecticut. We were the first target. Now it is your turn to stop it…
Lee Saunders, the national president of AFSCME, was also given the microphone at the event and explained that "Connecticut's governor's race nationally and how the labor movement can't afford Connecticut becoming another Wisconsin."
 But Connecticut will not be another Wisconsin. (Regardless of what happens in November)
While one can be rightfully suspicious of Republican Tom Foley, Connecticut has and will continue to have a Democratic legislature.  Wisconsin's governor got away with undermining collective bargaining BECAUSE he has a right-wing Republican legislature to support is anti-union, anti-public employee, anti-teacher, anti-public education initiatives.
Thanks to the way districts were drawn in the last three rounds of re-districting, Connecticut will have a Democratic legislature for decades to come.
But the #dontletCTbecomeWisconsin argument fails on a second group.
At last week's AFL-CIO Convention, Governor Malloy took the stage and in an attempt to revise history by saying,
"I stand with labor, I always have. I always will."
Not one union representative during this heavily scripted event challenged Malloy or even asked him to explain why he is the only Democratic governor in the nation to propose doing away with tenure and repealing the collective bargaining rights for teachers in turnaround school.
And no one confronted Malloy in order to force him to explain to state and local public employees how he intends to govern and meet our state's obligations, including public employee salaries, healthcare and pensions when he has promised that he will not propose or accept any tax increase during his second term as governor.
Faced with a $1.3 billion projected state budget deficit next year, Malloy has promised no taxes, no cuts to vital services and no concessions from state employees.
But even putting aside salary issues, the state of Connecticut will be required to allocate more than $120 million next year just to maintain minimum funding for pension obligations and health benefits.
Furthermore, the last state employee concession agreement cut salaries by 3%, so that those dollars could be shifted to the state retirees' healthcare fund.  As state employees know, the state of Connecticut is supposed to start matching that $125 million a year in July 2017.  But Malloy's no tax pledge makes is virtually impossible for the state to fulfill that financial obligation. This means that state employees will learn that they took a pay cut to help fund retiree health benefits but the state walked away from its side of the bargain.
The #dontletCTbecomeWisconsin argument is simply a way to scare union members into voting for a governor who has failed to match his actions to his rhetoric.
Perhaps even more telling, the "Don't let us become Wisconsin" is the campaign strategy that some union leaders are utilizing in other parts of the nation.
In Illinois, for example, the argument is the same.  Don't let Illinois become Wisconsin.
And so who are voters being told to vote for?  An incumbent Democratic governor who has pushed anti-labor bills and his running mate, Paul Vallas, one of the nation's leading champions in the effort to destroy public school teachers, their unions and the public education system.
Voters, including union members, deserve the right to vote for a candidate who will look out for their interests, not just the option of choosing one failed politician over the other.
Just take a look at this political cartoon developed by fellow education blogger, Fred Klonsky who is one of the most important pro-union, pro-teacher, pro-public education voices in Illinois.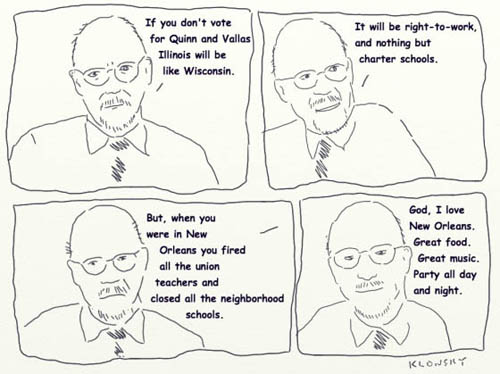 The cartoon savoring the facts of the career of Paul Vallas first appeared on Fred Klonsky's blog on June 12, 2014. The URL for the blog is http://preaprez.wordpress.com/2014/06/12/ten-minute-drawing-vote-for-quinnvallas-or-we-will-be-like-wisconsin/#comment-63640
Paid for by Pelto 2014, Ted Strelez, Treasurer, Christine Ladd, Deputy Treasurer, Approved by Jonathan Pelto